Asset Management Outcomes
ASSET MANAGEMENT OUTCOMES WORKING GROUP
AMO continues to work with other organizations to deliver capacity building initiatives that ensure long-term stewardship and sustainability of local infrastructure. AMO has established an Asset Management Outcomes Working Group with representation from:
Municipalities of all types and sizes throughout the province;
The federal and provincial government; and
Several membership-based organizations active in the field.
The purpose of this group is to identify opportunities for alignment in coordinating data collection initiatives delivering capacity building projects, while ensuring that any future reporting requirements:
Meet the national objectives of the Canada Community-Building Fund;
Do not create a reporting burden for Ontario municipalities; and
Are consistent with the provincial requirements in O. Reg. 588/17 under the Infrastructure for Jobs and Prosperity Act, 2015.
Making Progress in Asset Management
In the last few decades, Ontario's municipal governments have made great strides in adopting asset management as a decision-making tool for councils. AMO monitors sector progress in asset management on an annual basis. Despite the progress made, many small municipalities struggle with advancing asset management in their communities due to lack of:
Adequate staff resources and training;
Financial resources to collect and maintain the required data; and
Accurate data on costs, condition and risk assessment for their assets.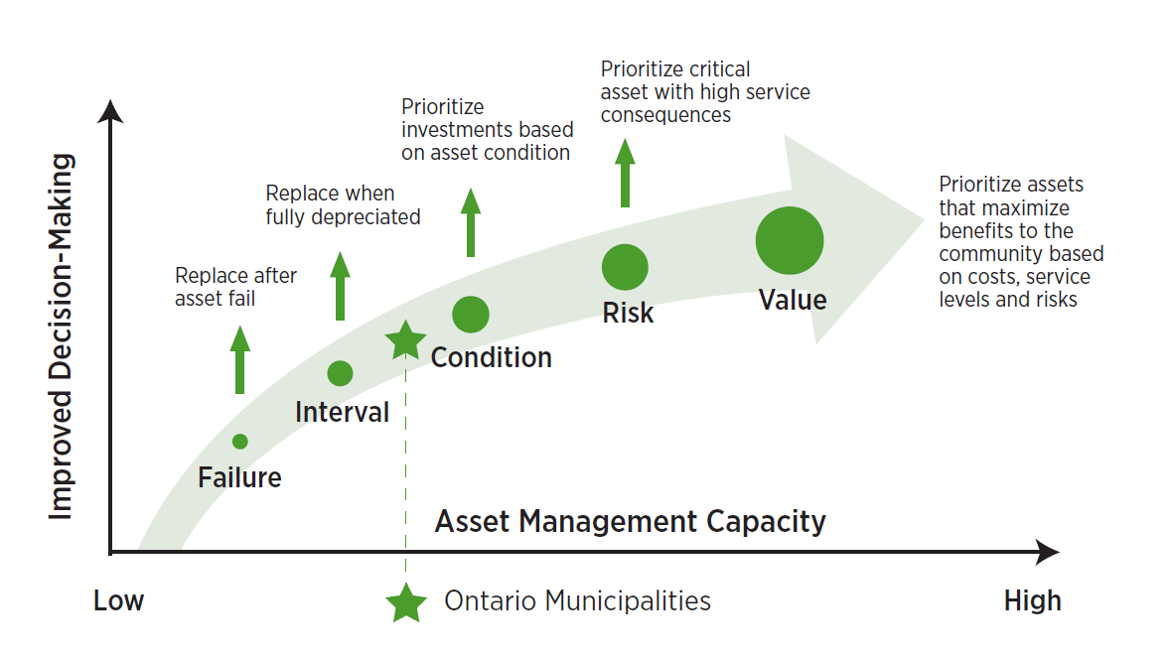 AMO CAN HELP
AMO supports municipal sector progress in asset management through several capacity-building projects, policy directives, and administration of the Canada Community-Building Fund.
AMO also provides support for municipalities by developing educational resources for elected officials, and offering training for municipal staff to build technical expertise and facilitate the adoption of better practices in asset management for Council.
AMO staff regularly review all asset management plans collected during the most recent reporting cycle. When requested, staff is available to provide feedback to municipalities on their current asset management plans.