AMO supports municipal sector progress in asset management through several capacity-building projects, policy directives, and administration of the Canada Community-Building Fund.
AMO administers the Fund for 443 municipalities in Ontario. The Administrative Agreement requires municipalities to develop an asset management plan that identify local infrastructure investment priorities.
While municipalities are making progress in asset management, they struggle due to lack of:
Data on lifecycle costs, service levels and risk assessment
Financial resources to collect and maintain the required data
Adequate staff resources and training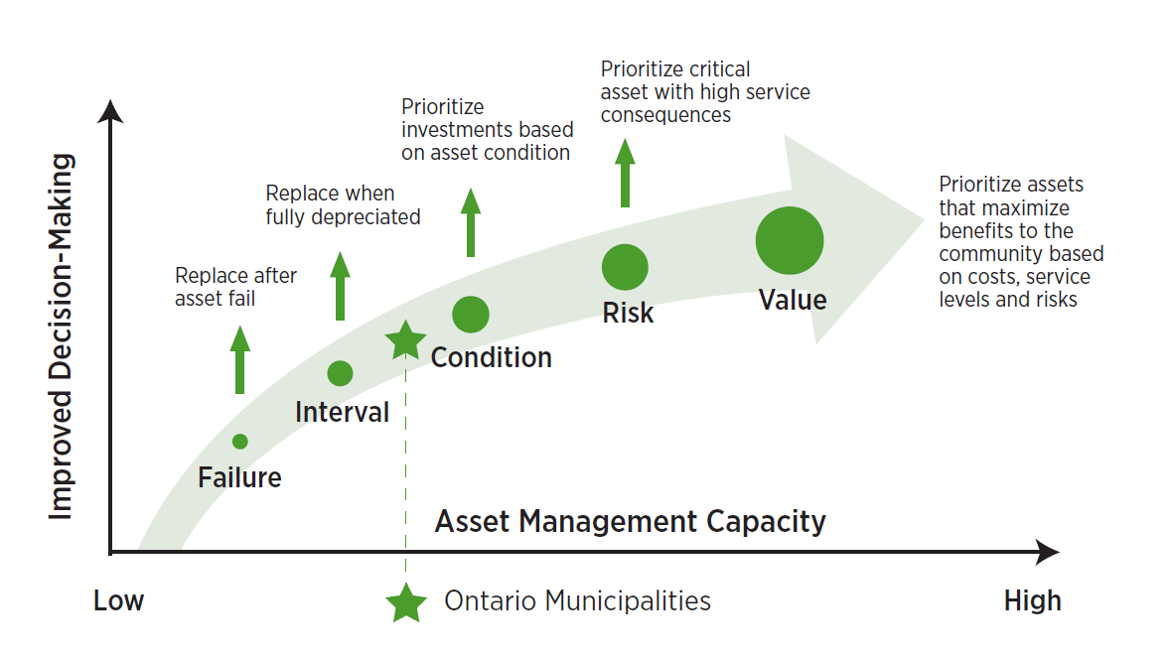 Asset Management Under the Administrative Agreement
The Administrative Agreement requires Ontario municipalities to:
Develop and implement an asset management plan; and
Report asset management outcomes.
Each requirement is described in detail below. Municipalities must demonstrate progress toward meeting these requirements.
ASSET MANAGEMENT PLAN REQUIREMENTS
The Administrative Agreement required Ontario municipalities to develop and implement asset management plans by December 31, 2016. All municipalities have successfully developed a baseline asset management plan in alignment with Ontario's Building Together: Guide for Municipal Asset Management Plans.

Municipalities are expected to continuously improve and implement their existing asset management plans according to the requirements of the Asset Management Planning Regulation.
ASSET MANAGEMENT REPORTING REQUIREMENTS
Municipalities must demonstrate:
That asset management plans are being used to guide infrastructure planning and investment decisions; and
That Canada Community-Building funds are being used to address priority projects identified in the plans.
Municipalities met this requirement by:
Submitting a copy of their most recent Council-approved asset management plans; and
Responding to:
Reporting requirements are guided by the Asset Management Outcomes Working Group.
ASSET MANAGEMENT OUTCOMES WORKING GROUP
AMO has established an Asset Management Outcomes Working Group with representation from:
Municipalities of all types and sizes throughout the province;
The federal and provincial government; and
Several membership-based organizations active in the field.
The purpose of the group is to ensure that any future reporting requirements:
Provincial Asset Management Requirements
Develop a Strategic Asset Management Policy by July 01, 2019
Develop an Asset Management Plan including core infrastructure assets with current levels of service by July 01, 2022
Develop an Asset Management Plan including all infrastructure assets with current levels of service by July 01, 2024
Develop an Asset Management Plan with proposed levels of service, and lifecycle management and financial strategy by July 01, 2025
AMO CAN HELP
AMO continues to work with other organizations to deliver capacity building initiatives that ensure long-term stewardship and sustainability of local infrastructure.
AMO staff regularly review all asset management plans collected during the most recent reporting cycle. When requested, staff is available to provide feedback to municipalities on their current asset management plans.